About Fenomatch

Increase the probability of your child looking like you.
BIOMETRICS DISTANCES FROM FENOMATCH offers you the tool you need.
The decision to have a baby is one of the most important decisions made in life. Finding the best egg or sperm donor to make that dream come true is just as important. We want to help you, we want to be part of your wonderful life project.
Finding an egg or sperm donor in which you see yourself reflected can take a lot of time and effort. FenoMatch allows you to find the donor you need, through its cutting-edge technology that allows the measurament of biometric distances of donors and compares them with you or your partner. We want to shed some light on your search!
We hope to bring the donor selection process as close as possible to you. We are committed to your family project. With Fenomatch, you will always have a professional and comprehensive service, we know that you are going through a delicate, physical and emotional situation. At Fenomatch we care about you and your family.
---
FenoMatch: Find donors that look like you or your partner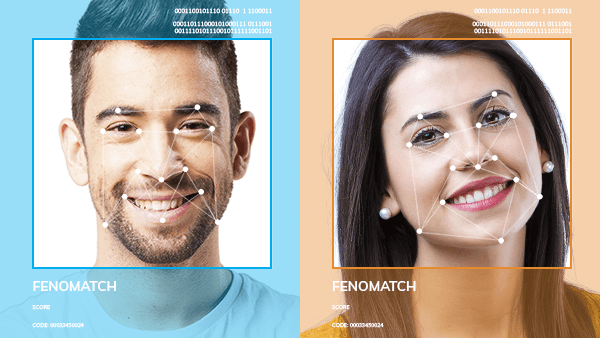 Traditionally, fertility clinics search for a donor in their egg/sperm bank that meets certain scientific criteria (quality and quantity) and phenotype (hair colour, ethnicity, eye colour...). The first donor that meets those requirements is chosen between any that comply with such criteria and map.
With Fenomatch, fertility clinics can deepen the selection. Out of all the candidates who meet the basic criteria, they can select the one that most resembles you. Donors are sorted by facial resemblance in a few seconds.
Fenomatch studies more than 12,000 facial points, to determine with a score of 1 to 100 the degree of similarity with you. After that, the clinic classifies the candidate donors to offer you the most similar ones.
---
Reliability of measuring biometrics distances from donors
Fenomatch uses advanced Big Data algorithms that allow a response from multiple data sources: analysis results, facial points of similarity, phenotype map...
The Big Data technology of Fenomatch implies a great infrastructure of data processing, and the development of algorithms for more than two years to offer an optimal response in time and in coincidence.
FenoMatch Score is an algorithm that allows you to sort out people according to their similar resemblances, adapting the scale depending on ethnicity, skin colour, etc... The Fenomatch Score ranges from 1 (looks nothing alike) to 100 (it is considered that they are the same person or a twin brother).
To test the power and reliability of the FenoMatch system we have created identification games. Try them now!
---
How to use FenoMatch
Ask for it at your clinic. If they still do not have it available, tell them to contact with us, they will be able to start using this service in 24 hours.
All the information needed to request Fenomatch is here.
---


Ethical and legal commitment
Not only are we committed to the respect of the current regulation in terms of assisted reproduction, but also we go a step further, we have a strong ethical code of respect and of support for your family project.
We guarantee the privacy and confidentiality of the data we use, using the latest data encryption techniques and applying destruction protocols of the data that is not strictly necessary for the use of the service.